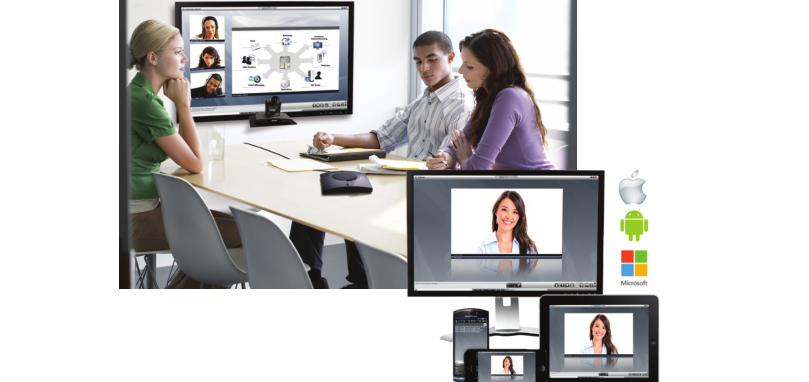 Move your technology to the Spontania Cloud or implement the Spontania Cloud software in your own data center.
Allow dozens to thousands of your users to collaborate in real-time, sharing high-quality voice, video and data on any device they choose— from cell phones to standards-based group systems.

Spontania is the most powerful cloud service available— putting all the benefits of visual collaboration within anyone's reach–while removing the barriers of complexity and high costs.
- Ultimate ease of use and quality
- "Five 9s" reliability
- Flexible deployment options
- Richest feature set in the industry

Choose between public cloud, private cloud, and on-premise solutions, replacing the need for expensive infrastructure. Combined with our industry-leading voice solutions the ClearOne video collaboration portfolio leads the market in scalability, return on investment, functionality and quality.

ClearOne's Spontania cloud service empowers customers to deploy video collaboration without the heavy burden of expensive infrastructure.  It also allows service providers and partners to expand their offerings by deploying the technology within their own networks, building on ClearOne technology to further their current solutions and offerings.
Features:
Low acquisition and operating costs— avoid capitalization of expensive infrastructure and endpoints
BYOD-friendly, users can join and host from multiple devices— PCs, handhelds and mobile, cell phones, softphones, even legacymedia collaboration systems
Interoperable with existing IT and communication environments including legacy video conference equipment, PSTN/IPBX, directory authentication, scheduling tools
Light network footprint—optimizes bandwidth consumption to provide best possible real-time media collaboration quality, dynamically adapted to the bandwidth and device of each participant
Firewall, proxy and NAT friendly using standard port for no additional firewall configuration requirements
Easy to install, deploy and administer – backend web interface minimizes ongoing administration tasks
Simple to use, with intuitive user interface options for audio and video customization
Highly secure for even the most confidential video collaboration sessions, fully compliant with enterprise security policies and requirements
Compatible with Communication Enabled Business Process (CEBP)
Easily scalable with a distributed serve