Projectors - BENQ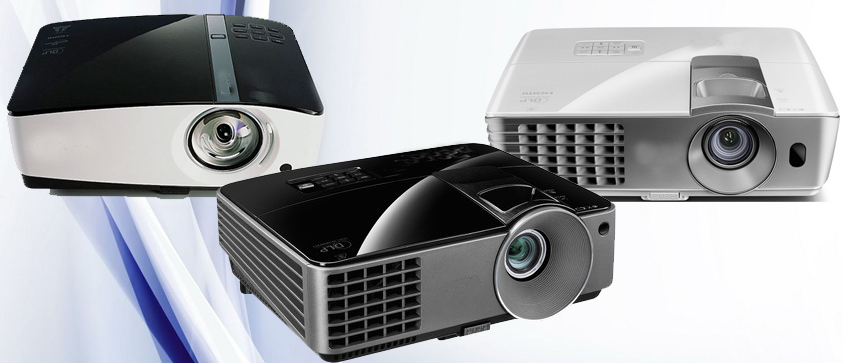 BenQ Corporation – a world-leading human technology and solutions provider driven by the corporate vision of "Brining Enjoyment 'N' Quality to Life" to elevate and enrich the aspects of life that matter most to people today – lifestyle, business, healthcare and education.

Set apart by the unique philosophy of "Because It Matters", BenQ is committed to empower people today to live better, increase efficiency, feel healthier and enhance learning through people-driven, innovation-fueled products, services and solutions. The spirit, as our very existence to improve the experience of life in every aspect, underlies our product development, business model, partnerships and corporate culture. It is also what inspires our dedicated employees and directs us in global citizenry. Because it matters, BenQ will continue to utilize substantial resources and proven expertise in product design, visual display, mobile solutions and network convergence technologies with the hope to delight the world, offering a broad range of products, services and solutions: digital projectors, professional monitors, interactive large-format displays, imaging solutions, mobile computing devices, and LED lighting solutions.

BenQ's expertise comes not only from our own research and development and people-driven approach to design and technology. It also comes from companies within the greater BenQ Group. Consisting of over 15 companies in 7 different business segments.

BenQ Design
The BenQ Lifestyle Design Center was commissioned in 2002 with the visionary mission of breathing human spirit, expression, and personality into digital devices. We believe that for technology to truly enhance and seamlessly blend into consumer lives, it must not only serve as a tool, but must also be an expression of the user's individuality and lifestyle. Eight defining years into this endeavor and over 200 international design awards later, the BenQ Lifestyle Design Center now stands as a cornerstone of our corporate mission of Bringing Enjoyment 'N' Quality to Life, fusing lifestyle with technology, enjoyment with productivity, and aesthetic design with engineering.

BenQ Long-Lasting Image Perfection with DLP® Technology As the world's #1 DLP® projector brand, BenQ offers you flawless winning Perfection that Truly lasts for years to come. BenQ award projectors are distinguished by Texas Instruments® Digital Light Processing®, patented BrilliantColor™ Technology, and a filter-free nearly sealed engine design for :
- Timeless Image Quality
- Razor-Sharp Clarity with Ultra-Readability
- Vibrant, True-to-Life Colors

Timeless Image Quality BenQ DLP Projectors are built with enduring enjoyment in mind, ensuring razor-sharp clarity, ultra-readability and true-to-life color for years to come. We use leading-edge DLP Technology to reflect pure light from millions of micro mirrors on a DMD chip through our advanced color wheels. Since the mirrors are colorless and protected within a nearly-sealed engine, BenQ DLP Projectors have no aging problems and are virtually immune to image decay, consistently delivering picture excellence time and time again. In fact, after 2,000 hours of intense usage, inserting a new bulb produces image quality comparable to a brand-new projector.

DLP Technology also affords a filter-free engine design for carefree confidence in long-lasting image quality and reduced total cost of ownership. BenQ's SmartEco™ Technology further boosts contrast performance and image quality endurance while saving up to 80% on lamp power consumption.
Razor-Sharp Clarity with Ultra-Readability
Enabling a 96% fill factor, DLP Technology supplies pixel circuitry behind the pixel, thereby eliminating the thick dark bezels around individual pixels, which diminish color and detail. A higher fill factor and less black border translate to noticeably purer, more intense color and smoother image quality.

BenQ DLP Projectors also feature high contrast ratios for flawless rendering of small text, fine lines, and dark scene details. Blacks are deeper and overall image quality is more focused and clean. Your presentations will be easily readable and highly effective, even from the back row of a well-lit venue.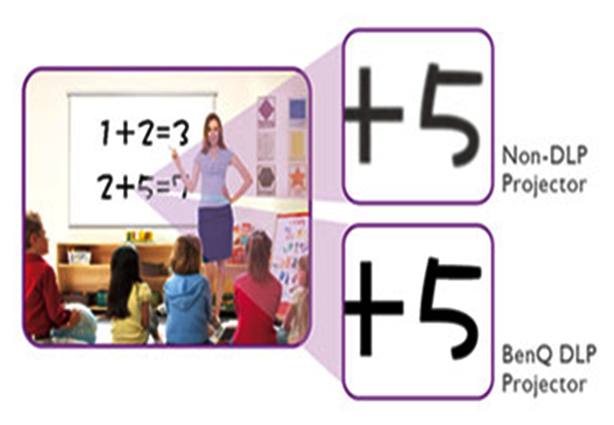 Vibrant, True-to-Life Colors
Even in lit venues, BenQ DLP Projectors achieve the optimal balance of brightness and color accuracy, with BrilliantColor™ Technology additionally boosting true-to-life colors that captivate. BrilliantColor enables up to six-color processing by incorporating the secondary colors Yellow, Cyan, and Magenta along with primary Red, Blue, and Green. From intense hues to elusive mid-tones like aqua blues and light yellows, your every presentation is rendered in pure, living splendor.