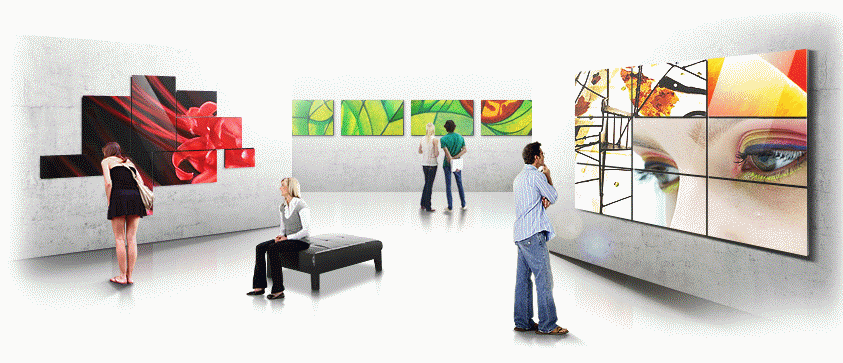 Samsung digital signage is the world's first integration-ready display solution that seamlessly combines hardware and software. This innovative new approach to digital signage enables any business in any environment to create a dynamic information experiences that truly engage its audience.

That's the New Business Experience.
Only from Samsung Display Solutions.
Visualize what you imagine.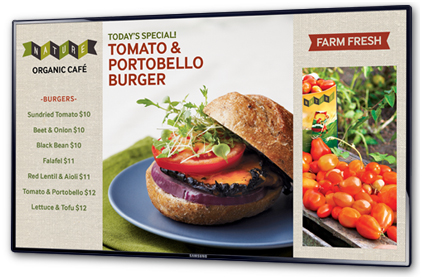 Integration-ready visual display solutions for a seamless information experience
Samsung Display Solutions is a pioneer in display technology, offering an impressive lineup of integration-ready digital signage products. Samsung displays provide the industry's first integrated, System-on-Chip media player and content manager, which can deliver the right information at the right time without a separate set-back box or external PC. Samsung's streamlined in-house software solutions reduce the complexity and cost of the system, enabling any business to enhance its customer experience with dynamic digital media. Samsung has also made it easier for businesses and system integrators to install and maintain digital signage by providing an open platform that is compatible with any legacy system. Samsung's advanced display technology is designed to meet the real-world needs of modern businesses, from small retailers to large multinational corporations.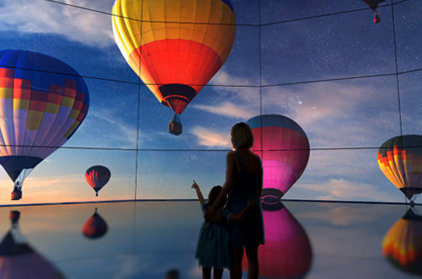 [Video] Samsung Display Solution's Vision
Samsung display solution is inspired by you. We will guide you to build your success and future with next generation of display technology.
Why Samsung Display Solutions?
No.1 global digital signage provider
Samsung has a long history of manufacturing top-of-the line TVs and monitors for a global audience. Building on its international reputation and technical expertise, Samsung established a dedicated LFD business, Samsung Display Solutions. By offering reliable, affordable and innovative products, Samsung's LFD business has gained No.1 market share. Samsung's reputation for excellence was earned by continually releasing new, innovative products that pushed the limits of what was possible in digital signage.
Innovative technology leadership
Samsung Display Solutions has advanced the field of digital signage by introducing innovative new hardware, including the display industry's first embedded System-on-Chip processor, the Transparent Display, the Tile Display and the 95" HD Display. Samsung has enhanced its large product portfolio by developing powerful all-in-one software solutions that cover the full range of customer needs, including content creation and scheduling (MagicInfo), interactive e-board presentation (MagicIWB), and in-house hotel media management (LYNK SINC, LYNK REACH).
Customer-oriented product development
Looking to make digital signage ownership more convenient and less expensive, Samsung has introduced a line of products that were designed with people in mind. The intuitive content author makes it easy to produce professional-grade promotional material in-house. The display's embedded software platform can play a wide range of media with no additional hardware or codecs. The mobile management system enables business owners to control their display system from anywhere.
At each step of the product planning process, Samsung's product developers listened to what their customers needed. This user-focused product philosophy has resulted in a lineup of powerful, customizable display solutions that require minimal time and resources to install and maintain.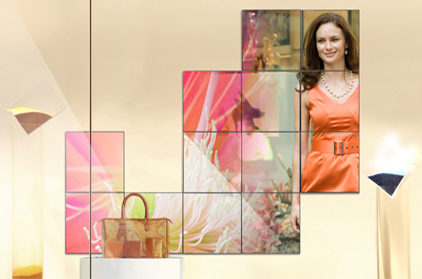 How can Samsung Display Solutions help my business?

Samsung Display Solutions has designed its products to cover a wide range of promotional services, from merchandising to brand awareness to targeted information distribution.
Regional, National or International Chain Stores
- Deliver a unified brand identity by displaying consistent,company-wide content
- Simplify display management in regional stores via network-based operation content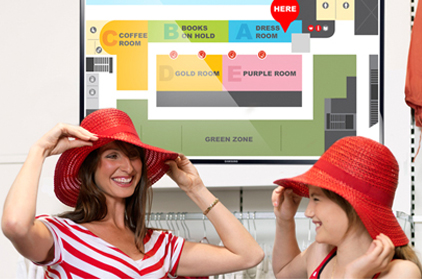 Malls
Easily deliver tailored messages to different areas by controlling content remotely
Enhance visual content with advanced automatic color
Management capabilities
Small Retail Businesses
Attract new customers with digital signage that displays vibrant product images
Deliver up-to-date sales information with built-in content management software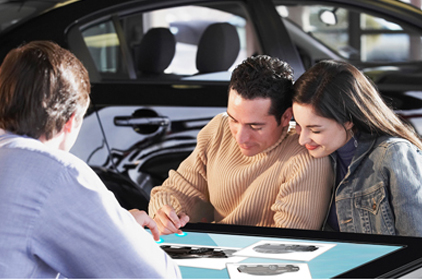 Auto Dealerships
Display vibrant, true-to-life images with HD resolution and excellent screen luminosity
Enhance the customers shopping experience by connecting easily to peripherals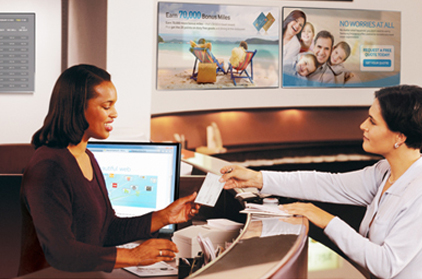 Banks
Display financial information in real time with direct access to company databases
Promote consumer financial products with easy-to-use content management tools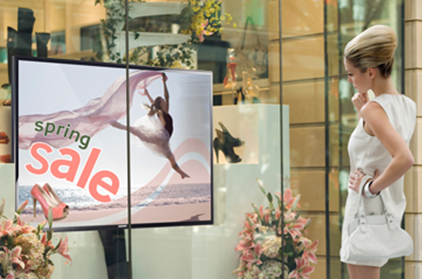 Apparel Retailers
Create a luxurious, visually striking shopping experience with dynamic display layouts
Revolutionize product showcasing with cutting-edge display technology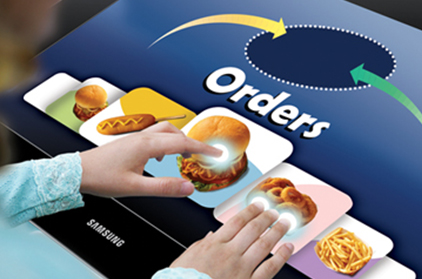 Restaurants
Stimulate diners' appetites with high definition images of mouth-watering food
Promote limited-time-only specials with the Smart Scheduling function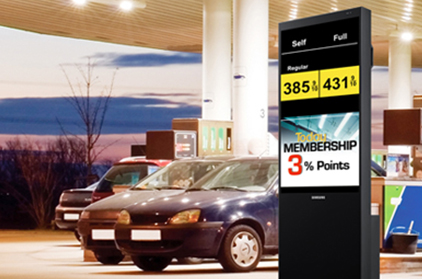 Gas Stations
Maximize product durability with weather-resistant display covers
Improve sales of peripheral goods and services with special offers advertisement